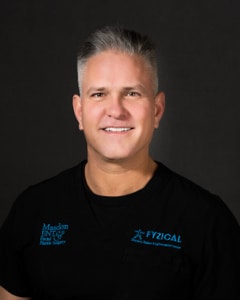 Jimmy Lee Masdon, M.D.
Otolaryngologist
Jimmy Lee Masdon, M.D. is an Alabama native Board Certified in Otolaryngology–Head and Neck Surgery. He graduated magna cum laude from the University of Alabama in Tuscaloosa and earned his doctorate from the University of Alabama at Birmingham (UAB), where he served one year as Alpha Omega Alpha Honor Medical Society chapter president.
After scoring in the top 5% nationally on both his medical boards, Dr. Masdon was awarded a position at the UAB Department of Surgery's Division of Otolaryngology–Head and Neck Surgery. He is a diplomat of the American Board of Otolaryngology and a fellow of the American Academy of Otolaryngology–Head and Neck Surgery.
Dr. Masdon is a native Alabamian who grew up in Haleyville, Alabama. He currently resides in Guntersville with his wife Rebecca and their two children, William & Avery.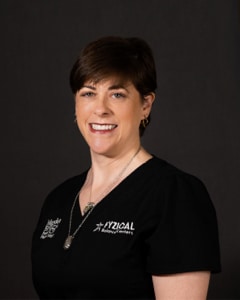 Hannah L Nixon, Au.D., CCC-A, FAAA
Doctor of Audiology
Dr. Nixon graduated cum laude with a Bachelor of Arts in Communication Disorders and Sciences, and a Doctorate of Audiology, from Wichita State University. She is licensed by the Alabama Board of Examiners in Speech Language and Audiology and board certified in Audiology by the American Board of Audiology. Dr. Nixon's vast experiences and skill set give her the necessary tools to provide state-of-the-art care for patients and their loved ones. "Using my knowledge and expertise, I am able to restore quality of life, not only for my patients, but for their family members as well." Dr. Nixon is passionate about her work, making it her personal goal to ensure her patients receive the utmost in quality care. She credits advanced hearing aid technology and professional care for improving the lives of many patients with hearing loss.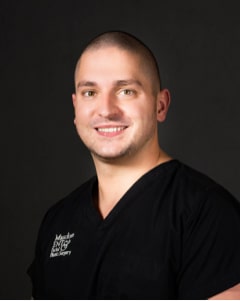 Corey Cahill, CRNP, FNP
Family Nurse Practitioner
Corey Cahill graduated from Jacksonville State University in 2014 with his bachelor's in nursing. He worked in multiple emergency rooms before starting his career with Dr. Masdon in 2016. Cahill worked for four years as Dr. Masdon's registered nurse while he was in school to be a Nurse Practitioner.
Cahill graduated from the University of Alabama-Huntsville in 2019 and became a certified Family Nurse Practitioner in 2020. He knew from an early age that he wanted to be involved in the medical field and to come back and help the residents of his hometown and surrounding areas.
Corey was born and raised in Guntersville, Alabama and has lived in Marshall County his entire life. He lives with his wife, Shyna Cahill, and their son Archer. He enjoys spending time with family, the outdoors and exercising.