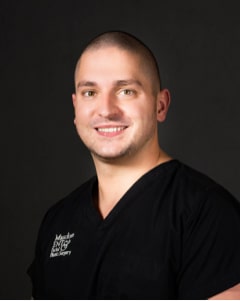 Family Nurse Practitioner
Corey Cahill graduated from Jacksonville State University in 2014 with his bachelor's in nursing. He worked in multiple emergency rooms before starting his career with Dr. Masdon in 2016. Cahill worked for four years as Dr. Masdon's registered nurse while he was in school to be a Nurse Practitioner.
Cahill graduated from the University of Alabama-Huntsville in 2019 and became a certified Family Nurse Practitioner in 2020. He knew from an early age that he wanted to be involved in the medical field and to come back and help the residents of his hometown and surrounding areas.
Corey was born and raised in Guntersville, Alabama and has lived in Marshall County his entire life. He lives with his wife, Shyna Cahill, and their son Archer. He enjoys spending time with family, the outdoors and exercising.